Episodes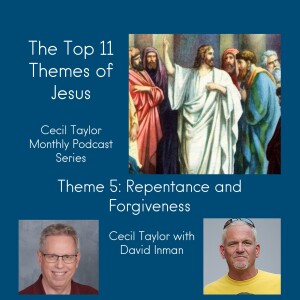 Wednesday Nov 08, 2023
Wednesday Nov 08, 2023
In his season 3 podcast series, Cecil Taylor identifies and explores the Top 11 themes of Jesus, derived from the number of His mentions in the Gospels. Each month, Cecil will count down the themes toward the #1 theme.
This month's episode is on the #5 theme, Repentance and Forgiveness. It's a serendipitous follow-up to last month's #6 theme of Love, Mercy and Service to Others, as there is a connection between forgiveness and mercy.
On this podcast, Cecil reviews some of what Jesus said about repentance and forgiveness, breaking it down into the four sub-topics: description of sin to reject, God forgives, call to repentance, and God provides freedom from sin.
David Inman joins Cecil on the podcast. As an amateur Bible scholar, David has been studying the role of forgiveness in salvation, including connections between the Old Testament and the New Testament on this topic. David and Cecil discuss what David calls "The Forgiveness Imperative."
Scripture read in Cecil's analysis in the first half of the podcast is found at: Matthew 7: 21-23, Matthew 5: 27-30, Mark 3: 28-29, John 16: 8-9, Luke 15: 1-7, Luke 15: 20-24, Luke 7: 36-50, Luke 23: 32-34, Matthew 4: 17, Luke 5: 30-32, Luke 13: 1-4, Matthew 11: 20-22, John 8: 34-36, Matthew 6: 12, 14-15.    
You can learn more about Cecil at http://www.CecilTaylorMinistries.com, at https://www.facebook.com/ceciltaylorministries ,  https://www.linkedin.com/in/ceciltaylor/ ,   and the Cecil Taylor Ministries YouTube channel at https://www.youtube.com/channel/UCHP_khu3r77ubl5jvHsf5-w .
By registering as a free subscriber on the Cecil Taylor Ministries home page, you'll receive a free devotional guide, "30 Minutes Over 30 Days." You'll also receive his free monthly newsletter.
Cecil's books and video studies are:
- "The Next Thing: A Christian Model for Dealing with Crisis in Personal Life" (book, five-week video study, Leader Guide, and Participant's Guide).
- "Live Like You're Loved: Living in the Freedom and Immediacy of God's Love" (book, five-week video study, Leader Guide, and Participant's Guide).
Upcoming books and video studies now in progress:
- "From Comfort Zone to Trust Zone: How Jesus Urges Us to Take Leaps of Faith for His Kingdom" (available Dec. 2023)
- "Unison Parenting: Navigating Christian Parenthood with One Voice" (available Apr. 2024)