Episodes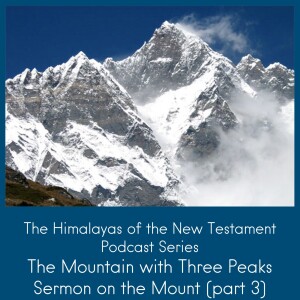 Monday Apr 10, 2023
Monday Apr 10, 2023
Jesus' teachings collide with the world's view in three peak chapters of New Testament thought, Matthew 5, 6, and 7, collectively called The Sermon on the Mount.
In Part 3, Cecil presents two teachings: The Golden Rule and the Parable of the Wise and Foolish Builders. Each, in their own way, is a summary. The Golden Rule summarizes the teachings of the Law and the Prophets. The Wise and Foolish Builders summarizes how Jesus wants us to respond to his teachings of the Sermon on the Mount.
With this episode, Cecil not only concludes the Sermon on the Mount, but the entire Himalayas of the New Testament season.
IMAGE: Lhotse, the Himalayan mountain with three peaks next door to Everest, reminds me of the Sermon on the Mount's three chapters. Less than two miles away from Mt. Everest, Lhotse's highest peak is the fourth highest in the world.